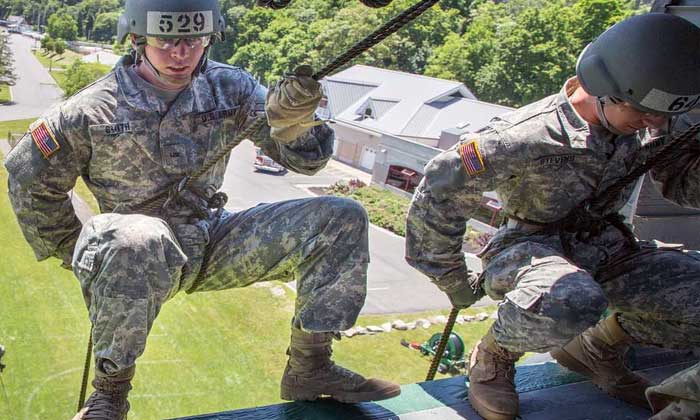 For highly motivated, hard-working pupils, military academies offer many benefits. These military academies provide untold benefits to students including preparing them for a career in the armed forces; giving them an education that is second to none; providing them with the best in modern first-class facilities; promoting patriotism and love for one's fellow Americans; honing them to become the next great generation of leaders; and producing some of the most distinguished students in the world.
6 Advantages That Are Unique to Military Schools
Many parents mistakenly believe that military schools are limited to kids who are falling behind or have conduct issues. While it's true that a military school can foster both discipline and responsibility among its students, it can also offer a number of other character-building advantages as well. The following are advantages offered by military schools:
1. Competently prepare students for a military career
Military Schools are the best place to prepare for a military career although any formal education can be applicable. This is one advantage military students have over the others. In addition to classroom learning on academic topics, students take part in intensive physical drills. They learn in a controlled atmosphere, helping them establish a real military character, shown by discipline, being independent, responsible, and obedient. Military schools offer skills and training that is not found in other types of institutions.
2. Provides an above average education
Academic excellence is also promoted by the Military schools. Mentors provide quality education, which go a long way in boosting students intellectual capacities. Military schools, unlike other schools, have small classes that allow teachers to focus on the academic needs and the performance of each and every student.
3. Their facilities are both top notch and entirely modern
Military school facilities are well-equipped and up to date compared to other educational institutions. In order for each student to reach their highest potential in academics, sports, performing arts, or other programs, the newest recreational and educational facilities are available for them to utilize.
4. Hone students to become future leaders
Students can become responsible citizens and leaders if they are trained in the military schools. What they give us are people who are leaders and able to make decisions with a minimum of struggle. Military programs intend to instill leadership values (like intelligence, independence, prudence, and concern for one's country and it's citizens) in order to maximize effectiveness.
5. Foster the love for country and one's fellow man
The younger generations may care less about other people or their country and think more of themselves. This will not take place within a military school. Military training also grooms students to be patriotic and more concerned for the welfare of other people. At a military school, students learn about national history and develop a sense of patriotism.
6. Produce students of high quality
Finally, military schools turn out distinguished leaders who are admired, respected and upheld by many. They are looked favorably upon for their bravery and admiration for what they have been through and completed successfully. Most of all, they are looked up to for what they have become after years of training in military school.
Military schooling may not be easy, but the benefits are great. Students develop all aspects of their lives and personalities, and they build wonderful character and ambition for the future.
6 Advantages That Are Unique to Military Schools