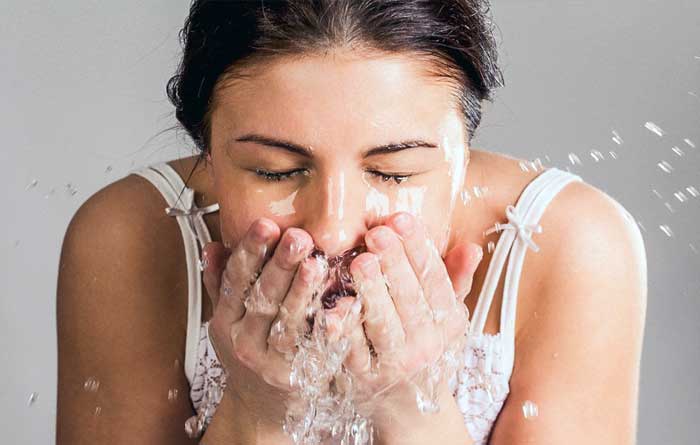 Every individual has different skin needs. But what doesn't differ is that everyone's skin needs to be cleaned to remove excess dirt brought about by the outside environment. Gentle cleansing is the first place to start.
Battle Blemishes, Take Care of Your Skin
Use a water-soluble cleanser:
Water-soluble cleansers are great because they gently cleanse your skin without stimulating the oil glands. A gentle cleanse does not cause redness or dryness. It also makes the skin feel soft and releases oil and dirt gently without damaging the skin.
Once you leave those dry, irritating pore-clogging bar cleansers and soaps behind, you will notice a distinct difference in the way your skin looks and feels. But you must remember to ONLY stick to water-soluble cleansers which are free of exfoliating agents, oil absorbing ingredients and topical disinfectants.
These harsh ingredients do very little for the skin because these active ingredients are quickly washed away? not providing any benefit on the skin at all. These ingredients are best used in the other stages of the cleansing process? like moisturizers, exfoliators or for disinfecting the skin.
But it is important to not only cater to the outside of your body but also you must cater to your body from the inside-out. Make sure you are eating anti-oxidant rich, non-inflammatory foods like hazelnuts, salmon, celery, cucumbers, apples, yogurt and pomegranates.
Many people do not realize this, but there are many natural foods that can actually lead to skin inflammation. We are always told to eat fruits and vegetables because they're better for us than processed foods. However, some of these fruits and vegetables can actually be detrimental to our skin.
Did you know that inflammation actually plays a role in the development of swelling and disease? It also plays a role in acne and aging.
In youthful-disease free skin, when looking at the skin under a microscope, no inflammation is visible. However it is present in older skin. This is also the same for acne-prone skin.
Basically, the foods we eat are just as important as the foods we should avoid – like flour, bread, bananas, cream cheese, granola and honey. You thought these were good you're your skin? Nope, think again! These foods are inflammation inducing foods which can actually leave our skin looking tired, puffy and prone to break-outs.
The list goes on (with natural foods that are bad for the skin), but if you want to learn more visit www.acne-secrets.com. There you will find all natural tips, information and treatments for acne. These are the secrets the pharmaceutical and drug companies won't tell you about.
Take care of your skin it is well worth it.
Janice Johnson is the founder of www.Acne-Secrets.com which offers all-natural tips, information and recipes to help treat acne naturally in both teenagers and adults.
Battle Blemishes, Take Care of Your Skin